After all of the turkey, stuffing and eggnog...................
IT'S TIME FOR SOME REAL FOOD!!!
Come out on Friday, January 7 for "Hakka Restaurant Night". This will be your chance to taste some Hakka Indian food and learn a little bit about your roots.
Where: Fusian Restaurant (950 Eglinton Avenue West, west of Bathurst)


When: 8 pm (January 7, 2004)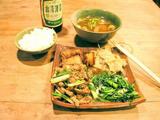 For $15 (+tax and gratuities) the menu will consist of:
-soup (sweet corn soup)
-entree (chilli chicken or stir fried cashew vegetables)
-deep fried bananas with ice cream and honey
*please tell us if you have any food allergies.